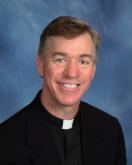 With the end of the Easter season soon approaching, the events surrounding Jesus and his followers leave a lasting imprint and impression upon us all. I can only imagine what the closest followers of Jesus were thinking at the Ascension event. They had gone through so much with his public ministry, his death and resurrection, and now he vanishes before their sight. I wonder as he instructs them at the Ascension if they are feeling any remorse. This is the band of brothers who have seen their own brother betray Jesus, deny Jesus, and all of them fleeing when Jesus he was arrested.
At the same time, Jesus is more than confident that he has left these disciples with all they need to continue the Mission on earth. Jesus will not leave them "as orphans" rather he will give them an advocate, the Holy Spirit, to guide them in what they need to do. It will require, on the part of the disciples, complete trust and a persevering faith to spread the "Good News" of Christ.
What is the result of this encounter of Jesus at the Ascension and then his "timely" departure? Jesus takes his rightful place at the right hand of his Father and the disciples go forth to preach everywhere, while the Lord works with them and confirms the Word through accompanying signs. There is a change of heart and conviction on the part of his disciples. They appear not only ready for ministry to the world, but to do what is necessary to make it happen. This will include even giving up their lives.
Their change of attitude is the power of the Resurrection. All faith rests on the moment Jesus overcomes death. The disciples having witnessed Jesus after his rising from the dead gives them the wherewithal to preach, heal, baptize, and proclaim the Kingdom. Jesus and his Father in heaven will give them the Holy Spirit. The Spirit will in turn guide powerfully how the ministry of the disciples unfolds. Many of us consider the Holy Spirit not only the guiding force of the Church through the ages, but also the force that has held the Church together through many difficult and dark periods of history.
Max Giorgi, our seminarian, moved into the parish last weekend. Max will be entering his third year this fall at St. Mary Seminary. The third year is a full year of pastoral work assigned to a parish in the diocese. Max has been given the assignment to serve at St. Patrick's Church on Bridge Avenue in Cleveland. (St. Patrick's Church is on the near west side of Cleveland a block from St. Ignatius High School.) Max will begin this assignment at the end of August. During the summer months, Max will be doing some work around the parish for us and will be preparing for his important pastoral year.
Max has taken homiletics course at the seminary and will be giving short homiletic reflection starting Friday, May 21st at the 8:30AM Mass. He will give his reflection after Communion. As we move into the summer months, Max will offer reflection at several Sunday Masses. We will keep you up to date so you can support him in this important part of his ministry and witness first-hand his preaching.
Are you interested in learning a little more about Mass (Liturgy)? I will be offering on the five Wednesdays of June (June 2nd, 9th, 16th, 23rd, and 30th) an exploration into the different parts of the Mass. I am going to also examine a comparison between the experience of Sunday Mass and the weekday Masses we celebrate. I will be doing this in Hanson Hall with all restrictions in place and to offer Zoom for anyone who might feel uncomfortable with gathering on these Wednesdays of June from 9:15-10:30AM. Call me if you have any questions. We will have sign-up in the Gathering Area or call the parish office to let us know if you will attend in person or will be on Zoom.
Our first monthly support group meeting for widows and widowers will be Tuesday, May 25th at 7PM in Hanson Hall. Anyone who has lost a spouse is welcome to attend. Come and share your story and life and provide healing for others. Call the parish office for more information.
This past week, it seems that we are inching closer to the end of the pandemic, or at least the beginnings of normalcy to our lives. Keep praying for patience and perseverance through these days as we head into warmer weather. My hope includes seeing our Parish Picnic take place in August and our Reverse Raffle in November. We will communicate these events and other parish activities as we see more clarity to our future at Divine Word. Have a great Easter week!