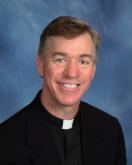 John's gospel is a powerful spiritual reflection of Jesus taking on the will of his Father in heaven. Jesus brings to Earth the power of his Father from on high. I have always enjoyed John's gospel because it cannot be read unless you go underneath the words. John's writing calls us to contemplate his actions, words, and relationships. The wedding at Cana is a great example of this.
At the Wedding Feast of Cana, we encounter Mary for the first time in John's gospel. I am immediately drawn to the fact that she is never called by her first name. Jesus is at the same feast and Mary is the one who notices they have no wine left and goes to Jesus because of this situation. Jesus addresses her as, "Woman, how does your concern affect me?" That is quite a response and almost bordering on disrespect. No one could get away with that kind of address to their mother today.
This way Jesus speaks to his mother has absolutely no effect on her. As she looks at the servers, Mary offers the last words she speaks in John's gospel, "Do whatever he tells you!" Mary in a powerful way tells the world Jesus' ministry is to begin. The water into wine is the beginning of the signs Jesus will use to reveal who he is. His first miracle is one that will keep the celebration of this wedding going. It also reveals on a deeper level that these words are enough for Mary and in reality, these words are also enough for us.
"Do whatever he tells you." For the servers at the wedding feast this would mean lining up large water jars and filling them to the brim. They provided everything necessary to allow this miracle to happen. I am just wondering if we could ever hear the words of Mary and apply them to ourselves. Mary speaks to us about the relationship of Jesus in our own life, "Do whatever he tells you!" This would mean giving up personal control of our lives and placing it in the hands of Jesus. Mary 's words on the deepest level are for us to surrender ourselves completely to Jesus.
We are now into Ordinary Time and will be here until Ash Wednesday (March 2nd). The next seven weeks will prepare us for the proper reflection and presence of Jesus' public ministry. Since Lent starts at a later date this year, we will have several readings from Luke's gospel that we do not often hear at this time of the year. As we
go deeper into the Luke's story of Jesus' life in ministry,
we will have a greater sense of his mission as we enter
the season of Lent.
We begin the Alpha Program on Monday, January 24th
with dinner at 6:30PM in Hanson Hall and Presentation
at 7:00 PM. This program is designed to offer
knowledge and insight into the Christian Faith. The
Alpha Program has a good track record. It has
reinforced faith and helped people gain more
knowledge about our beliefs. This Program can provide
greater access to understanding our faith. Although
this session is full, you can call the Parish Office to be
added to the waitlist.
You might want to clear these dates on your calendar:
Sunday, March 20th, Monday, March 21st, and Tuesday,
March 22nd for our Lenten Parish Mission. Fr. James
Sichko from Lexington, Kentucky will offer the Parish
Mission this year. He has been given great reviews for
his work and is a great storyteller who engages the
faith of people. I look forward to seeing this event take
place in our parish.
This past week our response for the Synod Listening
Sessions was very low. We have been given an
extension until the end of March to offer these
sessions. The hope is that we have more participation
if we push these sessions into February. Please know
you can participate in the Synod Listening Session
through the writing of your own reflections and input.
This can be turned in to the parish office and we will
include your feedback with the other feedback we send
to the diocese.
I hope and pray that all in your family are staying
healthy. This has been the mantra the last two years.
My hope is we see this new variant of the virus losing
its power in the next couple of weeks. Stay positive
through it all and if you can, seek some warmer
weather. The days of winter will pass us by quickly!