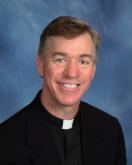 "Many are invited, but few are chosen."  What a way to end the gospel for this week.  This reminds me of the weddings we had right after the coronavirus began.  We had several weddings reschedule to the Fall and Winter.  We had a few more weddings reschedule for next year.  Those who decided to keep their wedding date and had already sent out their invitations now had to "choose" who was to come due to spacing restrictions in the church.
It was interesting watching this process take place as it became apparent that the bride and groom wanted to be married, but they had to pare down the numbers of invited guests to a minimum.  The question they had to raise, "Who is to be chosen to attend?"  "Immediate family" was the most common response.  Immediately after COVID hit, we saw no more than fifteen people attend the first couple of weddings.  In the meantime, some of the "invited" guests but not the "chosen" came in their cars and trucks and with social distancing tailgated in the parking lot.  What a sight to see the bride and groom walk out the main doors of the church and into the parking lot at the end of their wedding liturgy and have all the car horns blasting and people yelling.  This was a sight I never expected as a priest – a tailgate wedding.
What is Jesus trying to teach us with this final response, "Many are invited, but few are chosen?"  In today's parable the king issues invitations to many.  Jesus does the same for all of us as he invites us into his life.   After many initially refused the king's invitation he sends out his servants to invite anyone they can find.  We should get the message that God does not reserve his invitation to any select group.  We are all equally invited to the wedding feast!  Could it be that Jesus is telling us that all are invited to be a part of the Kingdom of God?
I wonder as an invited guest that the most important response is to just show up.  We also must realize our purpose when we do show up.  Is that not the reason why the man who was not in the proper attire was thrown out of the wedding feast?  We must do more than just show up; we must be ready to truly participate in the celebration.  What prepares us to enter fully into the celebration is our preparation and our intention to enter full-heartedly into what is being celebrated.  Could it be that Jesus is telling us that life itself is an invitation and we live our lives knowing that when it comes to be our time we are fully prepared to enter into the celebration prepared for us in heaven?
The Holy Name Societies of the Diocese of Cleveland are asking us to donate men's underwear and socks for the winter months.  Many of our homeless and poor in the city of Cleveland could use this kind of clothing now to prepare for the cold months ahead.  Please leave your donations in the bins located in the Gathering Area of the church.
Our St. Vincent de Paul Society will begin their collection for Thanksgiving baskets next  weekend.  We are asking for non-perishable food items to be placed in the marked containers in the Gathering Area.  We look forward to distributing these baskets to families who are struggling in our own community.  Thank you in advance for what all you do for us and for those who most need our assistance.
This coming Tuesday is our final meeting with our Adult Education group that has been reflecting on the writings of St. John Paul II.  Our discussion on the book entitled, "Teachings for an Unbelieving World: Newly Discovered Reflections on Paul's Sermon at the Areopagus" has been challenging and enlightening.  John Paul's style of writing and thinking make us all think deep and hard about what message he is conveying and how it connects to life.
Our PSR and Youth Group have both started.  From the looks of things, all precautions are taking place to make a safe and healthy environment for all attending.  Our teachers and other helpers are doing a great job to educate our young people.
Finally, this year has been crazy and I pray each day that all of us can continue to persevere and be patient during these unprecedented days.  Stay strong in both mind and soul.  I hope we all realize just how important our prayer and faith can be now and in the coming days.  My prayers for all of you.