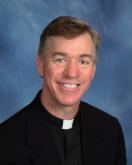 Last Wednesday our parish staff and members of our parish council went to Erie Bluff Pavilion and spent the day near Lake Erie to do strategic planning for the parish. It is always interesting when you have many voices offering ideas and insights as to where we can go into the immediate future to enhance the spiritual life of the parish. I walked away from the day feeling refreshed and excited about what we discussed.
Throughout the day, we kept our Five-Year Plan as the framework of our discussion. We used the data from the surveys you filled out several months ago to help us realize where our strengths lie and where we need to strengthen ministries. The following are the results of the day.
Here are the gaps we need to work on to build better ministry in our parish. People are not confident in sharing their faith or their personal journey with God. In response, members of the parish staff and several parishioners have been attending the Alpha Program at St. Gabriel's through the summer months. The Alpha Program is to help people learn more of their faith and give them an opportunity to grow and share that faith with others. We are planning to start the program for our parish in January. You will hear more of this program as the new year gets closer.
The next gap through information and surveys recalls a need for more education on the sacraments. The hope is that more of us can understand better what it means to live a sacramental life. How do we personally encounter the sacraments? In response, I will be offering several sessions on sacramental theology and the means in which we can live out a sacramental life. Pay attention in October for this series on "Living a Sacramental Life: How do we do it? And What Can It Mean for Us? As a part of the past year and a half of Covid, the increased number of funerals we have had, and people's own personal needs, we will have a weekend of anointings at each of our Masses close to All Souls Day in November.
One of the perpetual challenges on any parish staff is getting the information out to everyone. I know we have tried many avenues to make this happen like the parish website, Facebook, phone calls, bulletin, Newsletter, and the kiosk in the Gathering Area. We are looking at creating a new updated ministry catalog for parishioners and how we register new parishioners.
Another gap we need to respond to is ways of letting people know about the ministries we have, what they do, and where help is needed. There is also a closer issue within the Kirtland Community to aid the needs of our town. The suggestion is to allow parishioners to sign-up for ministries. This we have done in the past but can be done again.
We will review the way we welcome new parishioners. This will include the welcoming packets we give to each family or person who registers in the parish. We are also looking at the possibility of gathering small groups of new parishioners to welcome them and have them connect with other people from the parish.
We talked extensively about retreats for specifics groups. Prior to Covid, the Holy Name Society was offering a retreat day once a year. We have done Spirit Day with our young people preparing for Confirmation. Talk centered around other retreats we have done for men and women of the parish. We also talked about forming a prayer group on Monday nights centered around adoration. What we do have planned for the coming year is a Parish Mission in March with more information coming your way as we approach the new liturgical year.
I believe the parish planning day was productive. Having more voices offered great input and the results of the surveys you filled out for us were beneficial to the process. The results will hopefully give us a chance to provide more enrichment to your faith and the faith-life of our parish.
I hope this helps you realize a little of the work we will be doing over the next year. Having some goals in front of us makes ministry fun and challenging. We will continue to evaluate how the coming months evolve and what we accomplish always keeping in mind our Five-Year Plan. Let me know if you have any comments or suggestions. Have a great week and remember feed your faith with worship and prayer!