Serving others and celebrating the Lord in all He has given to us!
We're happy you could visit us!
Learn more about our parish community! It is our hope that if you are in the local area you will stop in to see us. We are a vibrant community of all ages, with parishioners from various backgrounds. Our parish is located in the town of Kirtland, an eastern suburb of Cleveland.
As you browse through our website, we hope you will enjoy getting to know us and seeing what we are all about.
Mass Schedule: Saturday Vigil: 5:00 pm,
Sunday: 8:30 am & 11:00 am
Rosary: Monday through Friday at 8:00 am
Weekday Liturgy: Monday through Friday at 8:30 am
---
Youth Group will hold regular Youth Nights on the 1st and 3rd Sunday of each month from 5 to 7 pm.   All students in grades 7 thru 12 are invited to attend.
---
Night of Legends – Lake Catholic High School is celebrating 50 years of football with a Night of Legends, honoring Tom Ward, Tom Banc and John Gibbon.  Event will take place January 25 from 6 to 11 pm at LaMalfa Party Center.  Information and registration at: https://www.lakecatholic.org.
---
Baptism Class – If you are expecting, or have recently welcomed your first child, plan on joining us on Sunday, January 26 at 6 pm in the Gathering Area of the church.  This class is a requirement before your first child's Baptism.
---
Caregiver Support Group – A support group for caregivers of those with dementia and Alzheimer's will continue at St. Helen's.  We will meet in the gathering space of the church on Saturday mornings after 8 am mass.  This group will meet once a month and is a "faith-based group".  We will meet on the following dates:  Jan. 11, Feb. 8, and Mar. 14.  Any questions, please call Carol Joyce at 216-978-1911.
---
Share a Cup of Tea
What: Share the Love of a Cup of  Tea with Family and Friends
When:  Saturday, February 8 from 1:00 to 2:30 pm
Where: Hanson Hall
How:  $15 per person and $10 for children who are welcome to bring their dolls.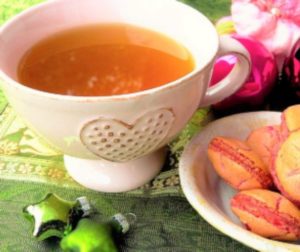 Join us for finger sandwiches, salad and desserts.  Bring your own tea cup and hat is optional.  Please call the parish office at 440-256-1412 for reservations or questions.  Deadline for reservations is Monday, February 3.  Payments can be dropped off at the office or put in the collection basket with "Tea Party" marked on an envelope.  NOTE: This is a parish fundraiser event and checks can be made out to "Divine Word".
---

Red Cross Blood Drive –  Every day, the Red Cross must collect nearly 13,000 blood donations for their patients.  We're trying to help them achieve one day's goal on Sunday, February 9, from 9 am to 1:30 pm in Hanson Hall.  The need for blood is critical.  Please sign up to donate in the Gathering Area.  If you have questions, phone Shari Allwood at the parish office: 440-256-1412.  Thanks — your gift of blood will save lives!
---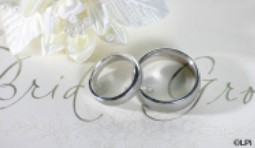 Pre Cana Day at Divine Word –  Getting married? There will be a Pre Cana Day on February 22 at Divine Word. The day begins at 8:00 am and will include Mass.  Please call the parish office at 440-256-1412 and let us know if you will be attending.
---
---
Thank you so much for your donations to this year's Giving Tree. As a result of your kindness, 65 gifts were delivered to two nursing homes as well as our home bound parishioners.  Gift cards were also given to bless multiple parishioners this Christmas. Such joy and appreciation was expressed by those receiving the gifts.
In addition, 412 soldiers will be kept extra warm with hand/toe warmers, 145 soldiers will receive a new pair of crew socks, 184 soldiers will be receiving a deck of cards or puzzle book to enjoy some leisure time, and hundreds of others will be provided with hygiene items & toiletries, snacks, and other necessities.
As always, your kindness and generosity is overwhelming.  Thank you, once again, and God bless you all.
---
---
Year-End Contribution Information – If you would like a 2019 contribution substantiation statement for your records, please do one of the following: drop a note in the collection basket requesting a statement or contact Dee in the parish office via email, dgermano@divinewordkirtland.org or by phone at 440-256-1412.  We will gladly mail or email your contribution statement to you.  We appreciate your gift of treasure and we thank you for your continued support!
---
Protect Yourself From Scams – PACKETS OF  INFORMATION are available in the gathering area to protect yourself or a friend from being scammed and how to report fraud.  The folders of free material include information on unwanted calls, tech support scams, identity theft, charity fraud, health care scams, etc.  This information is valuable, please pick up a folder and pass it on.
---
---
Eucharistic Adoration follows 8:30 am mass until 10 pm each Monday – Our Lord welcomes you and would like to see you.  Adoration is essentially an embrace with Jesus in which I say to him: "I am yours, and I ask you, please stay with me always."  –  Pope Emeritus Benedict XVI.
---
The Divine Mercy Chaplet is recited every Monday at 3 pm in the church.
---
Altar Service is a privilege and a blessing –  Altar servers are needed, especially at our 5 pm mass on Saturdays. If you are in the 4th grade or higher, mature adults welcome as well, please call the office at (440) 256-1412. Training will be provided.
---
Joseph House Help Needed –  Joseph House is in need of volunteers to work either on a Wednesday or Friday starting in February for approximately 3.5 hours a day.  Carpooling is possible.  Please contact  Joan Laux at 440-376-7800 if you are available.   Thank you!
---
Hot Meals Program Needs Our Help –  Call the Parish Office if you are available to help serve a meal at St. Philip Neri Community Center on Sundays:
For further information please contact Debbie Lokar at the Parish Office 440-256-1412.  Thank you!
---
St. Vincent De Paul offers many opportunities to help others. Call Dee at (440) 256-1412.
Knowing that we find that what we DO speaks louder than words…Please consider joining the Divine Word Conference of the Society of St. Vincent de Paul.
In the month of December, through your gifts, the Society of St. Vincent de Paul brought the spirit of Christmas to those who are suffering, by assisting five families, providing $100 in food gift cards and $329.34 for rent and utility bills.  Thank you!
---
Cross Stitch Help Needed –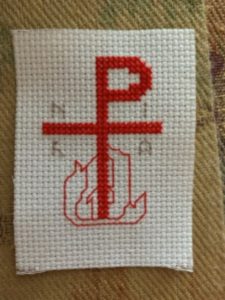 Our ministry is looking for anyone who could cross stitch these 2 x 3 appliqués for our baptismal bibs.  Please call Joan Laux at 440-376-7800 if you are able to assist. Thank you!
---
Watch, listen and read at our FORMED website! It's free . . .
---
Watch
Pulling together the best in Catholic movies, children's programming, audio dramas and books, we provide a trusted and engaging entertainment alternative in support of a Catholic lifestyle.
Learn
Our Bible studies, sacramental prep materials, documentaries, books and audio talks from leading Catholic experts will help you grow in understanding your faith.
Watch, listen and read.
Anywhere, anytime.
FORMED provides the very best Catholic content from more than 60 organizations to help parishes, families and individuals explore their faith anywhere. Supporting thousands of movies, children's programs, ebooks, audio, parish programs and studies direct to your browser, mobile or connected device.
Click this link to explore FORMED
---
---
AM 1260 The Rock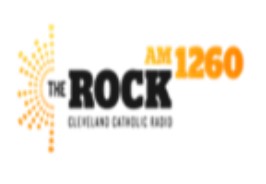 Start your New Year off by listening to Catholic radio!  Beginning January 1, AM 1260 The Rock will offer "Bishops back-to-back" on Wednesday mornings.  Hear "Life is Worth Living" with Venerable Archbishop Fulton J. Sheen at 8 AM, followed by "Word on Fire" with Bishop Robert Barron at 8:30 AM.  For the complete schedule, visit www.am1260therock.com and click on schedule.
---
False Emails and Faux Texts from Fr. Dave
Please be aware that a number of parishiioners have received false emails from Fr. Dave, and now it seems people are also being texted.
Law enforcement has advised that we should not respond to the email or text.  If you receive false information, please discard it.
Diocese of Cleveland Hotline
To Report Suspected Abuse To the Diocese: (216) 334-2999
To Get Assistance with Counseling: (216) 334-2999