Serving others and celebrating the Lord in all He has given to us!
Learn more about our parish community! It is our hope that if you are in the local area you will stop in to see us. We are a vibrant community of all ages, with parishioners from various backgrounds. Our parish is located in the town of Kirtland, an eastern suburb of Cleveland.
As you browse through our website, we hope you will enjoy getting to know us and seeing what we are all about.
Mass Schedule: Saturday Vigil: 4:30 pm
Sunday: 8:30 am & 11:00 am.
Please join us in our live-streamed mass on Sunday at 8:30 am.
Rosary: Monday through Friday at 8:00 am
Weekday Liturgy: Monday through Friday at 8:30 am
Our office is open Monday through Friday from 9 am – 5 pm.  Please feel free to call 440-256-1412 during those hours, or you may leave a message on other days/times.
St. Joseph Consecration Have you seen the statue of Saint Joseph on the property of our parish? Do you know Saint Joseph? Do you feel you understand his greatness and love for you? Well, my friends, get ready….Now is the time of Saint Joseph. Now is the time to consecrate yourself to him. More details to come as we begin February 15th. We are excited to pray and grow in devotion to Saint Joseph as a parish community!
You can still see our
Divine Word Online Virtual Choir Concert online.

Our Annual Financial Report can be viewed here: Parishioner Report FY End June 30,2020
Are you getting our Divine Word Weekly Updates? If not, contact Shari at sallwood@divinewordkirtland.org and she'll add you to our weekly e-mail updates. If your e-mail address changes, be sure to let us know.
Prayer Chain Ministry: Prayer is powerful! If you have prayer requests or would like to join in, please e-mail Gina Rensi at prayerchain@divinewordkirtland.org
Fr. Dave Seeks Additional Volunteers: Every Sunday after 8:30 am mass, we have volunteers spraying pews and kneelers, and wiping down door handles, railings, etc. Fr. Dave would like to expand the teams from three to a minimum of five or six. If you're willing to participate one Sunday per month for approximately 20-30 minutes immediately following 8:30 mass, please contact Debbie Lokar at the Parish Office. BIG thanks to those who have been participating and will continue to do so, hopefully with additional helpers to ease the load!
For our next Adult Education Book Series, Fr. Dave has selected "Rescued: The Unexpected and Extraordinary News of the Gospel" by Fr. John Riccardo for the next Adult Ed Series. Book review sessions will be held every Tuesday at 7 PM via Zoom through February 23rd. The book may be obtained via Amazon at this link, or contact Debbie Lokar in the office to obtain your copy. We look forward to your participation!
Divorce Recovery for Catholics Join us for a Zoom Virtual Support Group. The current Pandemic has caused feelings of isolation and confusion, especially those that are struggling with separation and divorce. In an effort to bridge the gap, we are hosting a virtual support group using Zoom beginning Tuesday, January 19th from 7 to 9 PM. Registration is required to be included in the group meeting. Please visit our website, DivorcedSeparated.net to register or contact Karen at kjubeck@stgabriel.org or 4403528282.
So many of our activities are on hold right now. We look forward to all meeting together again at a future time.
"In His Sandals" Hiking Club is now on hiatus until Spring.
Growing through Grief – Bereavement Support Series  is now pandemically paused.
Joseph House: is temporarily closed and not currently accepting donations due to the pandemic. They have a plan in place to deal with emergency needs over the coming winter months.
Our Hot Meals Program at St. Philip Neri is temporarily suspended.

RCIA – DO YOU KNOW SOMEONE SEARCHING TO BELONG TO A FAITH COMMUNITY?
If you know someone who has thought about joining the Catholic Church, please encourage them to contact Gina Rensi at (440) 606-0217
"Whatever you do to the least of my brothers, that you do unto me." New Prison Outreach program: Divine Word is teaming with True Freedom Ministries to become active in their Pen-Pal Ministry.  This recording is of the presentation and testimony provided by Mike Swiger, Executive Director of True Freedom Ministries presented to Divine Word in November. Click here for the recording. To become active as a pen-pal, please contact Debbie Lokar in the parish office. Rest assured this ministry is quite safe. Your full name and address will not be disclosed, all mail is handled by the ministry.
The Seven Sisters Apostolate – The Seven Sisters Apostolate group began last year when seven women responded to a call to strengthen the Church by ensuring that one hour is prayed each day of the week for the sole intention of a specific priest.  Each member commits to an hour on a distinct day of the week, thus covering a complete week. You may pray at any time on that day in church or at home.  This commitment began the week of June 21 and will continue for a period of one year, but can be continued beyond next June if you wish.  Please call Debbie Lokar at the parish office if interested or for further information.
---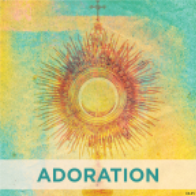 Eucharistic Adoration – Eucharistic Adoration has resumed on Mondays.  Take the time to adore Jesus in the Blessed Sacrament.  If interested in a specified hour or if you cannot keep your designated hour, please contact Debbie Lokar at the parish office. "Jesus waits for us in the sacrament of love and you are greatly needed" (Pope John Paul II).
Lysol wipes will be on the Baptismal Font.  Please wipe down the area where you will be seated and touching before leaving church to keep in compliance with the given directives.
---
Please Consider Joining Society of St. Vincent De Paul: The Divine Word Conference of the Society of St. Vincent de Paul is a dedicated group of parishioners who are advocates of the poor and marginalized of both the parish and the wider community, helping where they can to alleviate the needs of others in times of crises.  Presently, there is a need for parishioners to join the Society to assist in this very important work.  Contact Dan Laux at 216-509-0449 for more information.
---
Cross Stitch Help Needed –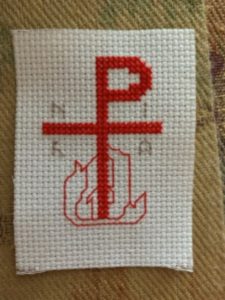 Our ministry is looking for anyone who could cross stitch these 2 x 3 appliqués for our baptismal bibs.  Please call Joan Laux at 440-376-7800 if you are able to assist. Thank you!
Watch, listen and read at our FORMED website! It's free . . .
Watch
Pulling together the best in Catholic movies, children's programming, audio dramas and books, we provide a trusted and engaging entertainment alternative in support of a Catholic lifestyle.
Learn
Our Bible studies, sacramental prep materials, documentaries, books and audio talks from leading Catholic experts will help you grow in understanding your faith.
Watch, listen and read.
Anywhere, anytime.
FORMED provides the very best Catholic content from more than 60 organizations to help parishes, families and individuals explore their faith anywhere. Supporting thousands of movies, children's programs, ebooks, audio, parish programs and studies direct to your browser, mobile or connected device.
Click this link to explore FORMED
WeShare Online Automated Giving:   Credit Cards Now Accepted!
You may now use a credit or debit card to donate, either a one-time or recurring.  Visa, MasterCard, and American Express are each accepted.  Clink this link to explore the giving opportunities that are available.  If you have questions, contact Dee at the Parish Office.
---
Our Heart of a Shepherd Campaign will continue throughout the next three years. Renovation of the seminary, priest retirement fund and reducing of debt for some of our newly -ordained priests are the primary focus of this plan. Fr. Dave and Shari Allwood can answer any questions you may have. Pledges can be paid over a three-year period. Renovation is slated to begin May of 2020. We need your help to accomplish this!
To make a donation to Heart of a Shepherd with a credit card, please visit www.catholiccommunity.org/divine-word. Checks can be made out to Catholic Community Foundation and dropped off at the office.
---
Legacy Fund
As we demonstrate our devotion to God this Lenten season, we are reminded to be stewards of our faith.  By providing a gift through your estate planning, you leave a sign of your commitment to continue the good work of the Church.  To begin planning for your legacy, or to become a member of the Divine Word Legacy Society, please contact Fr. Dave or Shari Allwood at the parish office or Mary Lou Ozimek at (216) 696-6525 x4070,  or email mozimek@catholiccommunity.org for a confidential conversation.
---
AM 1260 The Rock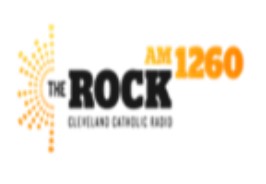 Catholic radio can be comforting at this time while you're sheltering at home.  AM 1260 The Rock will offer "Bishops back-to-back" on Wednesday mornings.  Hear "Life is Worth Living" with Venerable Archbishop Fulton J. Sheen at 8 AM, followed by "Word on Fire" with Bishop Robert Barron at 8:30 AM.  For the complete schedule or to listen to it online, visit www.am1260therock.com and click on schedule.
News from AM 1260 The Rock
NEW PROGRAM! AM 1260 The Rock, Cleveland Catholic Radio, is pleased to present our newest EWTN program, "Women Made New!"  Author and speaker Crystalina Evert chats with her guests about the hard topics and struggles in women's daily lives.  She and her guests remind everyone it's never too late to start over.  Women Made New! is women helping women!  Listen to "Women Made New!" Saturdays at 12 noon on AM 1260 The Rock.
AM 1260 The Rock prays daily for the intentions of our listeners.  In addition, the nuns at Christ the Bridegroom Monastery in Burton pray for your intentions as well.  Send your prayer request to prayers@am1260therock.com or call us at 216-227-1260 option 1.
---
They also have an app for your phone.
False Emails and Faux Texts from Fr. Dave
Please be aware that a number of parishiioners have received false emails from Fr. Dave, and now it seems people are also being texted.
Law enforcement has advised that we should not respond to the email or text.  If you receive false information, please discard it.
Diocese of Cleveland Hotline
To Report Suspected Abuse To the Diocese: (216) 334-2999
To Get Assistance with Counseling: (216) 334-2999