Serving others and celebrating the Lord in all He has given to us!
We're happy you could visit us!
Learn more about our parish community! It is our hope that if you are in the local area you will stop in to see us. We are a vibrant community of all ages, with parishioners from various backgrounds. Our parish is located in the town of Kirtland, an eastern suburb of Cleveland.
As you browse through our website, we hope you will enjoy getting to know us and seeing what we are all about.
Mass Schedule: Saturday Vigil: 5:00 pm,
Sunday: 8:30 am & 11:00 am
Rosary: Monday through Friday at 8:00 am
Weekday Liturgy: Monday through Friday at 8:30 am
Sacrament of Penance Opportunities: Communal Advent Penance Service is Tuesday, December 10th at 7pm. Individual Penance is available Friday, Dec 20 9 to 10 am, Saturday, Dec 21 from 3 to 4:45 pm, Sunday, Dec 22 from 6 to 8 pm, Monday, Dec 23 from 9 am to 10 am and 7 to 9 pm.
---
Youth Group will hold regular Youth Nights on the 1st and 3rd Sunday of each month from 5 to 7 pm.   All students in grades 7 thru 12 are invited to attend.
---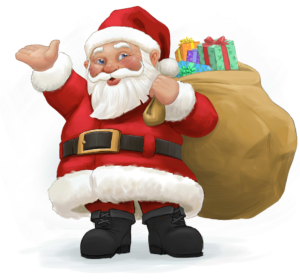 DOES SANTA'S HELPER NEED A LITTLE HELP?
Leave your kids with Divine Word Youth Ministry on Saturday, December 7th from 2 to 6 pm. While you get your Christmas shopping done, we'll enjoy some Christmas songs, movies, stories, crafts and more! Please email aperusel@divinewordkirtland.org to sign up. Free will donations will be accepted to raise money for youth ministry events and programming.
---
Joseph House Clothing Bank Is Extremely Full – At this time, we can only accept winter coats and winter gloves for men, women and children. Donations may be brought to Divine Word any time during office hours.
Thank you so much for your consideration and care, and for giving warmth this winter.
---
Let's Talk About Prayer An Advent Adventure with St. Teresa of Avila Mondays, Dec. 2, 8, 16 from 7:15 pm to 8:30 pm in Hanson Hall
---
Calling All Who Wish To Be Altar Servers! Altar servers are needed, especially at our 5 pm mass on Saturdays. If you are in the 4th grade or higher, mature adults welcome as well, please call the office at (440) 256-1412. Training will be provided.
---
Our Heart of a Shepherd Campaign will continue throughout the next three years. Renovation of the seminary, priest retirement fund and reducing of debt for some of our newly -ordained priests are the primary focus of this plan. Fr. Dave and Shari Allwood can answer any questions you may have. Pledges can be paid over a three-year period. Renovation is slated to begin May of 2020. We need your help to accomplish this!
To make a donation to Heart of a Shepherd with a credit card, please visit www.catholiccommunity.org/divine-word. Checks can be made out to Catholic Community Foundation and dropped off at the office.
WE ARE IN NEED OF A 7th GRADE CATECHIST.   Tuesday Evenings from 7- 8:30pm –
Please contact Gina Rensi at 440-606-0217 for more information.
---
Our Thanksgiving Food Collection is underway and will continue through November 24.  Please continue to bring all non-perishable foods, cleaning supplies and paper products to fill the bins in the Gathering Area during this time.  The donated items will fill the Thanksgiving Food Baskets that we will distribute to those in need in our community.  Thank you in advance for helping your neighbors in need!
---
RCIA – DO YOU KNOW SOMEONE SEARCHING TO BELONG TO A FAITH COMMUNITY?
  If you know someone who has thought about joining the Catholic Church, please encourage them to contact Gina Rensi at (440) 606-0217.
---
LIVING THE MESSAGE OF MERCY – A Divine Mercy Cenacle will be forming within the Divine Word community.  This will be an on-going devotional study group, meeting every other week, that will deepen our relationship with – and our trust in – Jesus, who is The Divine Mercy.  Our hearts will be transformed in a way that the message actually becomes a way of life.
Call Debbie Lokar in the Parish Office at (440) 256-1412 with any questions.  Please join us.
---
---
Are your little ones wiggleworms during mass? It is so wonderful seeing your beautiful families at Mass! Though it's not always easy, thank you for making the effort to bring your young children. It is important that they are there. Help keep kids focused and calm, with a Mass Bag from the Gathering Area. Grab a bag on the way in. Mass Bags are complete with a book, coloring book, crayons, stickers and goldfish crackers! Please return at end of Mass so they can be restocked as needed. Enjoy!
---
Subscribe to our Divine Word YouTube Channel, where you can find both Deacon Carl's, Deacon John's homilies from Pentecost and the addition of Fr. Caddy and Fr. Dave's homilies from the 13th Sunday in Ordinary Time.
---
Remember to RECYCLE! Give us your paper and cardboard. This includes: wrapping paper, catalogs, cards and packaging (paper) and boxes.  Please flatten all cardboard boxes before placing them in the bins. The funds we receive for recycling are used for our Youth Ministry programs.
---
---
Eucharistic Adoration follows 8:30 am mass until 10 pm each Monday. Please consider signing up for one hour in worship each Monday.
---
The Divine Mercy Chaplet is recited every Monday at 3 pm in the church.
---
St. Philip Neri needs your help with our Hot Meals Program.
We are also in need of someone to open and lock the doors of the St. Philip Neri Family Center on the second Sunday of the month for the meals program.
Please consider sharing some of your time to serve hot meals to those in need. This is a wonderful ministry to do as a family and so rewarding for all.  Call Debbie Lokar at (440) 256-1412 for more information.
---
St. Vincent De Paul offers many opportunities to help others. Call Dee at (440) 256-1412.
Knowing that we find that what we DO speaks louder than words…Please consider joining the Divine Word Conference of the Society of St. Vincent de Paul.
---
---
FORMED is a new FREE parish resource
---
Watch
Pulling together the best in Catholic movies, children's programming, audio dramas and books, we provide a trusted and engaging entertainment alternative in support of a Catholic lifestyle.
Learn
Our Bible studies, sacramental prep materials, documentaries, books and audio talks from leading Catholic experts will help you grow in understanding your faith.
Watch, listen and read.
Anywhere, anytime.
FORMED provides the very best Catholic content from more than 60 organizations to help parishes, families and individuals explore their faith anywhere. Supporting thousands of movies, children's programs, ebooks, audio, parish programs and studies direct to your browser, mobile or connected device.
Click this link to explore FORMED
---
False Emails and Faux Texts from Fr. Dave
Please be aware that a number of parishiioners have received false emails from Fr. Dave, and now it seems people are also being texted.
Law enforcement has advised that we should not respond to the email or text.  If you receive false information, please discard it.
Diocese of Cleveland Hotline
To Report Suspected Abuse To the Diocese: (216) 334-2999
To Get Assistance with Counseling: (216) 334-2999